Margaret Hamilton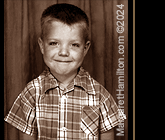 What's New? August 2022
Note: If you have content or insights that you would like included at this web site, please contact me at ran at margarethamilton dot com.


Video Vault: Sesame Street Banned Episode 847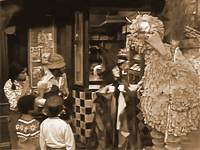 In Video Vault, the most controversial episode of Sesame Street, shown only once in 1976 and then it was banned from ever being aired again. For nearly half a century, this particular show, "The Wicked Witch of the West", was thought to be lost forever. And then on 22 July 2022, somebody uploaded it online.
Video Vault: Follow That Man; Pix: Rare Collectibles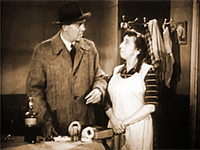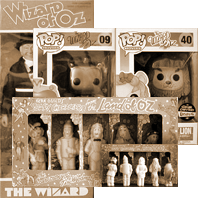 In Video Vault, a clip from the forgettable film, Follow That man, released in 1953.

In Pix, finally I am including a few Wizard of Oz collectibles from my collection.

In the future, I hope to show more collectibles from the Oz movie as well as additional MH-related items.
April 2022
Cora ads: Four More Ads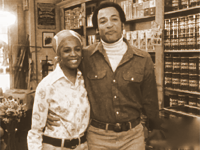 In Cora ads, four additional spots featuring Maggie as "Cora" (for Maxwell House coffee) have been added.

I believe this site hosts more Cora ads than any site on the web, or at least I hope so. It amazes me just how many of these ads Maggie produced...they must have kept her in good financial condition for many years.

Coming in the weeks ahead, I hope to spotlight (in Pix) many of the more "modern" collectibles/rarities that are sought after by the Wizard of Oz crowd. These items--there are many--are all part of MargaretHamilton.com's collection. Like most everything else, prices have skyrocketed over the last few years as more and more of them have become increasingly impossible to find.
March 2022
Video Vault: Stablemates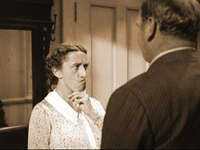 In the Video Vault, a clip from the 1938 motion picture Stablemates, starring Wallace Beery and Mickey Rooney.

A delightfully amusing tale of two drifters with intentions of leeching off of Margaret...only to have the tables turned on them. Released the year before The Wizard of Oz, this screwball comedy nicely highlights the other side of Margaret, namely, her sense of humor and willingness to play the frumpy no-nonsense boss-woman.
My Attic Treasures: On the Flip Side, Try To See It My Way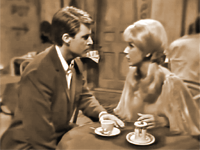 In My Attic Treasures, another true color and stereo-mixed version of Burt Bacherach's Try To See It My Way, the third rare clip I've featured from a 1966 television special on ABC's Stage 67.

Again, this show is impossible to find in color with stereo audio; see the descriptions below for more information about On the Flip Side.
February 2022
My Attic Treasures: Ticket to Ride, Carpenters & Andy Williams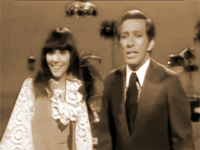 In My Attic Treasures, a stereo-mixed version of Karen and Richard Carpenters', Ticket to Ride, with Andy Williams.

This was broadcast in early 1971 on the Andy Williams Show. It was a most sought-after clip for years, and then somebody released a mostly clean video of the show a few years ago...complete with intrusive, ugly watermarks.
Video Vault: Addams Family: Happy Birthday, Grandma Frump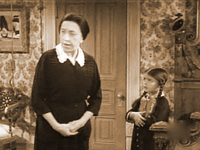 In the Video Vault, a classic (and colorized) clip from a 1966 episode of the television show, The Addams Family.

This is really a funny show as Maggie thinks that Morticia and Gomez are going to send her to a rest home instead of a beauty spa. So she concocts a bizarre strategy to convince them she's still young.
January 2022
My Attic Treasures: On the Flip Side, Juanita's Place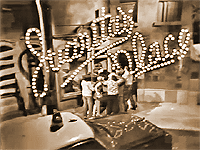 In My Attic Treasures, a true color and stereo-mixed version of Burt Bacherach's Juanita's Place, the second clip I've featured from a 1966 television special on ABC's Stage 67.

Once more, this particular show is impossible to find in color; all versions are poor black-and-white multi-generation VHS copies. There is only one known color print, and it's available for viewing only in person and only in one place.
Video Vault: Time Out For Ginger
In the Video Vault, a weakly colorized version of a failed 1962 television pilot series, Time Out For Ginger.

This is really a terrible pilot; it takes a lot of patience to sit through the whole 23+ minutes. But the theme song, especially the closing version, is extreme retro catchy (or did I mean kitchy?).
This Is How I Felt, September 2017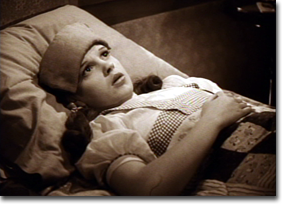 Move over, Dorothy...
...and
give me that compress
. Your adventure was a walk in the park compared to mine.
This website disappeared a few years ago, mainly because of the other two websites that were attached to it. Now, after so many years of darkness, it's time to get busy again.
I promised myself and others, too, that I would get this thing up and running by September 2017. They said it would be easy—like clicking my heels three times?—and they lied, BIGtime. Everything changed while I was gone: HTML was no longer the way I remembered it. Browsers don't work like they used to. And who, pray tell, killed Netscape?
But I did it. There was no wizard to help me, no ruby shoes, no Glinda, no nothing. And no Toto, too. I even went to California looking for her, only to find out that her burial ground was paved over by a highway (disrespect much?...geez...I did drive over it, however). And I also found
this
.
But I'm done (for today), and you're Home. There's no place like Home...as you can plainly see.
Your webmaster, Ran (September 2017; ran at margarethamilton dot com)
December 2021
My Attic Treasures: On the Flip Side, Rick Nelson and Joanie Sommers

In My Attic Treasures, a true color and stereo-mixed version of Rick Nelson singing Yesterday's Heroes from a 1966 television special on ABC's Stage 67.

I'm guessing that nobody coming to the site realizes just how rare is this clip. The reason is that there is only one known color copy of this show, and it's located in only one place on earth...and you must travel to that place in order to view this particular show in its entirety.
My Attic Treasures: The Paper Chase, Seals and Crofts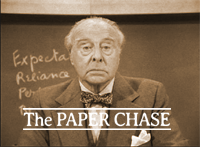 In My Attic Treasures, a stereo remix of Seals and Crofts' The First Years theme song for the 1970s television series, The Paper Chase.

This catchy song was never released as a single, nor was it released in stereo; existing copies on the web are mostly poor and muddied sounding.
My Attic Treasures: Walk On By, Dionne Warwick

In My Attic Treasures, a stereo remix of Dionne Warwick's stunning performance of her 1960s hit, Walk On By.

The badly needed audio upgrade extracts Dionne's original mono vocals from the soundtrack and matches them to new stereo instrumentals. The result is well worth the amount of work it took to produce this upgrade. Look for it at the top of far-right column in the Treasures section.
November 2021
My Attic Treasures: Chevrolet 1964, Castleton Tower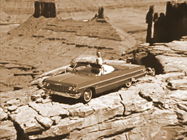 In My Attic Treasures, the first version of the most famous Chevrolet TV commercial, stereo-enhanced, broadcast during the fall 1963 season of Bonanza.

Filmed atop Castleton Tower in Moab Utah.
My Attic Treasures: Mamas and Papas in Color/Stereo

In My Attic Treasures, from a 1966 broadcast featuring the Mamas and Papas on the television show, Hullabaloo, a colorized and stereo-enhanced one-of-a-kind version of Nowhere Man.

There are no color copies of this broadcast because all but two of the original color prints of the series were destroyed. This particular song is a favorite of fans; it was never studio-recorded by the group and was performed only this one time on the show, 14 March 1966.
June 2018
Pix: One-of-a-kind Autograph Book, with Video
In Pix, a rare, twice-authenticated, one-of-a-kind find featuring Margaret and several co-stars from a special television appearance in a 1962 episode of The Danny Thomas Show...including video.

MargaretHamilton.com is the owner of this unique piece.

Also in Pix and Video Vault is a new clip from the rarely seen Danny Thomas episode, Bunny, the Brownie Leader, featuring guest star, Margaret Hamilton.
April 2018
Pix: Extraordinary Autographs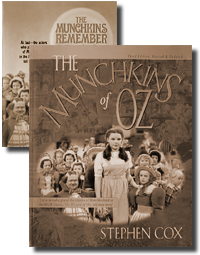 In Pix, prolific author of several television and movie history books, Stephen Cox, shares personal insights behind an amazing photo containing 20 autographs of then-surviving Munchkins from the 1939 The Wizard of Oz film. The autographs were collected at various times, beginning in the 1980s, all the way through the 2000s.

MargaretHamilton.com is the new and proud owner of this museum piece.

Also in Pix is another Munchkin photo featuring autographs of nice-guys Tommy Cottonaro and Jerry Maren.


Video Vault: Nothing Sacred, 1937
In Video Vault is a new clip from an early Hamilton movie, Nothing Sacred released in 1937...and in color!
This Is Mainly Why We're Here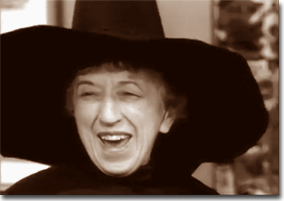 Where to Begin?
Many years ago (while walking down the yellow-brick road...), I thought it would be nice to own a piece of
The Wizard of Oz
. Since I'm no
Willard Carroll
, who owns more than his fair share of Oz memorabilia (not mad, just jealous...), MargaretHamilton.com was all I could afford. Why was it available? That's a good question: It was just sitting there waiting to be snapped up, and I was the first to snap.
But why MH? Because her 12-minute WWW appearance in
The Wizard of Oz
not only stole the movie, but continues to scare the tarnation out of kids around the world. I love that!...and so do they, something they'll appreciate when they grow up.
And then there's the fact that Margaret—Maggie, as she liked to be called—so much reminded me of my good friend, Mabel. Mabel and I were your typical
Harold and Maude
couple—minus any kind of romantic stuff—we could discuss anything together, we were always there to support each other, and we remained friends until senility stepped in and took her away from me and the world. Plain speaking, down to earth, about the same age as Maggie...Mabel was a gift. Anyway, that's how this all came about...almost...
And then there is also my perverse need to skate on the edge of technology and post "other stuff" on a wide range of subjects. All the other stuff is why there is a
M
y
A
ttic
T
reasures section...not that I even have a real attic.
If you are a copyright holder of anything on this site and you don't like what I've done, just tell me. I will take down your copyrighted stuff pronto, no harm or disrespect done or intended. But I think the content is either in the public domain (most of it is well over 50 years old), was filmed or designed by me, or falls under the Fair Use Doctrine.
Theft of Work for YouTube

On all of the videos on this site, you will see messages asking you not to steal the work here, and place it on YouTube.

Video content on this website is watermarked; all of the videos contain keep-off-of-YouTube warnings, and they are watermarked several times with this site's identity.

I am not a fan of YT and have never given or shared my work on that site. Furthermore, I don't make money off of anything here. YouTube, however, is a censoring, stealth-surveillance, money-generating corporation worth billions, built off the backs of the artists who originally created the media, and people like me, who promote it in a fair-use manner. Furthermore, YouTube is affiliated with a world-wide famed search engine that feeds information to the surveillance state. Please don't help these corporations grow and prosper; I have enough to do without having to deal with corporate parasites.