Margaret Hamilton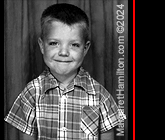 An Angel In My Pocket, 1969
Andy did a fine acting job in this film, but it was reported that he didn't like the movie after it was released. It is loaded with familiar faces from the 1960s, including Jack Dodson, better known as Howard Sprague, from
The Andy Griffith Show
.
Angel
has been shown on cable television, in ultra-widescreen format. Even though there is no studio release of the film on disc, there are several "imports" (aka bootlegs) for sale online, and they are mostly in nice condition.
Miss Almira Gulch, In Color, 1939
real life
has to be black-and-white or sepia; there are no other alternatives.
So, here it is...in case you're curious to see it, too. I thought the muted colors looked good; there is still an unsettling moodiness about the clip (those menacing storm clouds sure don't help).
Gunsmoke Outtake, 1973 (upgraded October 2023)
You Only Live Once, 1937
You Only Live Once
was director Fritz Lang's second film in the United States. He is credited with bringing
film noir
to Hollywood. Unfortunately, this movie was the very first film-noir box-office flop. The dark and moody attitude of the film just didn't appeal to 1937 audiences...even though today it is considered one of the better film noirs.
Maggie had a small role in the movie, but her acting was good. Her movie-husband "Ethan"—Charles Partlow "Chic" Sale—seemed older than 51 at the time...I thought he was in his 60s. He died before the film was released in 1937. The official year of his death was 1936. They had wrapped up filming already, and it was to be his last film before succumbing to pneumonia...it
did
seem like he sounded a little hoarse when saying his lines. What a shame; he, too, did a good job in this film.
Placement of this video and audio on YouTube (or any other site) is not allowed.
The Jitterbug, 1964
Judy Garland Show
, filmed in October 1963, but not aired until March 1964. Without doing any research on these dates, I'd wager that the murder of John F Kennedy factored into the delayed airing.
The Jitterbug
song was originally supposed to be in the 1939
Wizard of Oz
, but it ended up on the cutting-room floor and was never included in the film.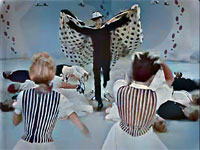 With Ray Bolger as guest, it was an opportunity for Judy to introduce the song and its story to the world. This was back in 1963, long before the Harold Arlen home-movie footage of the
The Jitterbug
surfaced in 1983...so nobody knew that there was this song cut from the movie. Jane Powell—who had one of the best singing voices in the business—is perfectly matched with Garland, and Ray Bolger's brief role as the bug is silly fun.
This clip is from the original black-and-white footage of the show. It has been processed using AI, colorized, and the audio is enhanced with simulated stereo. Fantastic early '60s jazzy music and dancing. There are at least two missteps in the choreography...can you spot them?
The Bat, 31 March 1960
The Dow Hour of Great Mysteries
, from 1960. This was the premiere show of the series...and only six episodes later, it ended due to the death of its host, Joseph Nye Welch, a man who had a historical confrontation with Senator Joe McCarthy during the days of the communist witch-hunts.
The Bat
starred Helen Hayes and Jason Robards, with Margaret playing a small role not even worthy of mention in the opening credits (which are included in this clip).
Decidedly, not her best acting, at times seeming to go over the top with her constant worrying and jitteriness.
Only a terrible-quality kinescope of this show exists; sources say it has never been released in any media format. The kinescope is muddied and full of artifacts. I've cleaned up as many of those artifacts as I could...the periodic vertical lines could not be removed without distorting the rest of the video. The colorization was added because it actually does improve the picture, which is usually steeped in murkiness.
The Trouble With Father: Problem Party, 1950
The Wizard of Oz
, Margaret stumbled from one cornball TV role to another. This one is no different.
This scene is near the end of a rather horrible early-1950s black-and-white television series,
The Trouble with Father
. Margaret is caught snooping through the window of an acquaintance, where fishy-seeming things have been taking place. She gets caught by a local cop, is almost charged as a peeping tom, but is bailed out of trouble by series "father", Stuart Erwin, who teaches his snoopy friend a lesson, a common theme of shows in those days.
It was difficult to sit through this entire show and its travelogue-type music constantly playing in the background. The acting was as cornball as it gets, the storyline silly, and the humor lame. Margaret was a rather refreshing familiar face...one knew that she would at least provide a little snarky comedy relief.
Although the source video for this clip (in the public domain) was very blurry and generally poor, scratches and blips have been mostly cleaned up, and the footage has been slightly colorized...and sharpened as best as possible.
Margaret Hamilton Visits Mister Rogers' Neighborhood, 1975
Mister Rogers' Neighborhood
for a quiet interview and a bit of fun, to show children that she's not some ugly, wicked witch.
It almost appears that she brought her own costume. It's likely not the original, as she believed that all of the props from the movie should be in a museum, where everybody could see them. This clip is from an unusually pristine source file and has been processed using A.I.
Bunny, The Brownie Leader, 24 December 1962 (Upgraded 24 Feb 2023)
The Danny Thomas Show
. It was the only time Maggie appeared in this series, but what a memorable role she played.
Note: This video was upgraded to higher definition 24 February 2023.
Ray Bolger Hosting The Hollywood Palace, 1967
The Hollywood Palace
. In this clip, he is accompanied by younger members of the King Family singing,
If I Only Had a Brain
. The show was televised 7 January 1967.
Seated to Bolger's left is Tina Cole, a King Family cousin, who also played Don Grady's wife in the long-lived series,
My Three Sons
. Bolger is wearing the original "Scarecrow" hat he wore in
The Wizard of Oz
, which he did indeed own. After his death, his wife donated the hat and the rest of the costume to the Smithsonian, where it is preserved in some backroom...no visitors allowed.
A Slight Case of Murder, 1938
A little known fact is that Hamilton was not intended to be in this film. After shooting was completed, they brought her in to film this added scene for the movie. One can only guess that she had already been selected to play the role of the Wicked Witch of the West, and the marketing department wanted instant recognition when the
Wizard of Oz
was finally released the following year.
Sesame Street 847: The Wicked Witch of the West, 1976
Sesame Street
, but for any long-lived television series. And why was it banned?
Apparently, this particular show scared the bejeebies out of the tender-hearted kids of 1976...they were terrified of Maggie's performance. PBS received so many angry letters from parents, that the decision was made to never rerun the show again.
If you want to read some of those letters, you'll find them at
Muppet Wiki
.
Maggie's repeat role of the Witch was spot-on. If anything, her advancing age made her seem even more sinister. You can view or download the entire show at
archive.org
.
The Wizard of Oz On Ice, 1996



This television ad is in stereo and was broadcast on a Portland (Oregon) station...the date of the recording is 1996. Note the telephone number shown in the clip and the absence of an area code...they weren't required for local calls until about 2001.


Follow That Man, 1953



This scene--complete with suspenseful music--shows Bellamy stealing glances at the camera so many times, one half-expected him to utter, I'm ready for my close-up.


Stablemates, 1938



In this clip, even the sight gags are hilarious...note how Beery appears to have a hangman's noose near him while Margaret ropes him in.

Near the end is a scenario way ahead of its time, showing Margaret proposing to Beery. His response, Well, this is so sudden, is the perfect comedic reversal of male/female stereotypical roles.


Happy Birthday, Grandma Frump, 11 February 1966

The Addams Family, Margaret returns as Granny Hester Frump in her third (and final) appearance playing this comic role.

Of course, it isn't Maggie on the pogo stick, but the thought of her actually using it is hilarious. This was the kind of role that she loved playing...her comic timing was flawless, and you could tell she got a kick out of playing Granny. Since all of the Addams Family shows were black-and-white, it should be mentioned that this particular clip was slightly colorized for added interest.


Time Out For Ginger, 18 September 1962



The best thing I can say about this clip is the retro opening/closing theme song (both are included). If you like early '60 Hi-Lo-esque music, you'll love Ginger's theme song. It's so bad, it's good.


Nothing Sacred, 1937

two years before The Wizard of Oz...in early Technicolor. According to Wikipedia, it was the first screwball comedy filmed in color.

Here she is in a brief comedic exchange with reporter Wally Cook, played by dashing Fredric March. One minute of opening credits is included.


A String Of Blue Beads, 1953

color television pilot that was never aired and never sold to a network. A very young Louis Jourdan is in the starring role. The fact that it was made in 1953 and is in color is astounding, since color TV was absolutely new in this country and few people owned one. This pilot was a Christmas show, was well acted, and had a very good, heartwarming storyline.


Safety Plate Glass, 1957
Lays Potato Chips, Bert Lahr, 1960s (Upgraded 8 April 2023)



This wasn't the only devilish Lays ad that Lahr made; there was a much longer version...almost too long. Some say that this ad is the same as the other, but briefer due to editing. Not so. This one appears to have been produced earlier in the two-year run of these ads. Lahr is a bit younger in this one, and his lines are not the same as in the longer version. The thumb-pic shown here is from the longer version.


The Paul Lynde Halloween Special, 1976

The Paul Lynde Halloween Special was discovered in the mid-2000s, and released on DVD by Smore. Now, alas, that DVD is out-of-print. This special, with guest stars Margaret Hamilton, Billie Hayes, and Florence Henderson also introduced KISS to the world.

In this clip, Maggie reprises her WWW role, but you can tell that she is unable to do the witch's famous cackle. Billie Hayes, however, totally makes up for it, and it's hilarious.


The Daydreamer Mrs. Klopplebobbler, 1966

The Daydreamer is one of the best unknown movies for kids and grown-ups I've seen in a long time. It was made in 1966 and features many classic actors, most of whom have passed away. Maggie plays an animated, crotchety thing who desperately needs her shoes fixed. Ray Bolger is also in it, playing the pie maker. If you haven't seen it, go buy it right now...it's out-of-print but still widely available.

alternate opening-credits video, with Goulet singing. The way the actors and animations introduce themselves here just tickles the heck out of me...and I love this song.

Patty Duke Show (Patty is also in this movie). He, too, sings and is surprisingly good. In this clip, which is a Fantasy Video (see My Attic Treasures for a description of fantasy videos), Ray Bolger, the pie-maker, is also featured.


Where's Charley?, 1952

Where's Charley?, starring Ray Bolger, is one of those films that has attained cult status: Never been released on home video, hasn't seen the light of day for decades due to a studio wife not liking the film. So it's been sitting in a vault somewhere all this time.

Maria number in The Sound of Music. Makes me wonder if they got the idea from THIS movie.

Once In Love With Amy. I never knew where this song was from; we used to sing it in choir, and it was always the favorite of everybody in the class due to the teacher's arrangement of the song and harmonies of the chorus. I always thought it was a turn-of-the-century song. WARNING: Do not put these clips on YouTube; they are not permitted there or anywhere else.


13 Ghosts, 1960