Margaret Hamilton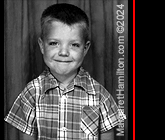 Stablemates, 1938
In this clip, even the sight gags are hilarious...note how Beery appears to have a hangman's noose near him while Margaret ropes him in.
Near the end is a scenario way ahead of its time, showing Margaret proposing to Beery. His response,
Well, this is so sudden
, is the perfect comedic reversal of male/female stereotypical roles.
Happy Birthday, Grandma Frump, 11 February 1966
The Addams Family
, Margaret returns as Granny Hester Frump in her third (and final) appearance playing this comic role.
Of course, it isn't Maggie on the pogo stick, but the thought of her actually using it is hilarious. This was the kind of role that she loved playing...her comic timing was flawless, and you could tell she got a kick out of playing Granny. Since all of the Addams Family shows were black-and-white, it should be mentioned that this particular clip was slightly colorized for added interest.
Time Out For Ginger, 18 September 1962
The best thing I can say about this clip is the retro opening/closing theme song (both are included). If you like early '60 Hi-Lo-esque music, you'll love Ginger's theme song. It's so bad, it's good.
Bunny The Brownie Leader, 24 December 1962
The Danny Thomas Show
. It was the only time Maggie appeared in this series, but what a memorable role she played. This episode is broadcast about once a year on the COZI network.
Nothing Sacred, 1937
two years
before
The Wizard of Oz
...in early Technicolor. According to Wikipedia, it was the first
screwball comedy
filmed in color.
Here she is in a brief comedic exchange with reporter Wally Cook, played by dashing Fredric March. One minute of opening credits is included.
A String Of Blue Beads, 1953
color
television pilot that was never aired and never sold to a network. A very young Louis Jourdan is in the starring role. The fact that it was made in 1953 and is in color is astounding, since color TV was absolutely new in this country and few people owned one. This pilot was a Christmas show, was well acted, and had a very good, heartwarming storyline.
Gunsmoke Outtake, 1973
Safety Plate Glass, 1957
Lays Potato Chips, Bert Lahr, 1960s
This copy is from a very old VHS tape I had, which is missing. I had captured it to computer (2003?) using a very early (and inferior) capturing device. That capture is the only one appearing on YouTube...and it was hijacked from one of my sites many years ago. Very bad video quality, but a rare ad.
The Paul Lynde Halloween Special, 1976
The Paul Lynde Halloween Special
was discovered in the mid-2000s, and released on DVD by Smore. Now, alas, that DVD is out-of-print. This special, with guest stars Margaret Hamilton, Billie Hayes, and Florence Henderson also introduced KISS to the world.
In this clip, Maggie reprises her WWW role, but you can tell that she is unable to do the witch's famous cackle. Billie Hayes, however, totally makes up for it, and it's hilarious.
The Daydreamer Mrs. Klopplebobbler, 1966
The Daydreamer
is one of the best unknown movies for kids and grown-ups I've seen in a long time. It was made in 1966 and features many classic actors, most of whom have passed away. Maggie plays an animated, crotchety thing who desperately needs her shoes fixed. Ray Bolger is also in it, playing the pie maker. If you haven't seen it, go buy it right now...it's out-of-print but still widely available.
alternate
opening-credits video, with Goulet singing. The way the actors and animations introduce themselves here just tickles the heck out of me...and I love this song.
Patty Duke Show
(Patty is also in this movie). He, too, sings and is surprisingly good. In this clip, which is a Fantasy Video (see My Attic Treasures for a description of fantasy videos), Ray Bolger, the pie-maker, is also featured.
Where's Charley?, 1952
Where's Charley?
, starring Ray Bolger, is one of those films that has attained cult status: Never been released on home video, hasn't seen the light of day for decades due to a studio wife not liking the film. So it's been sitting in a vault somewhere all this time.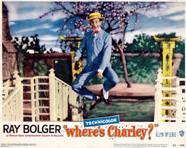 A few years back, there were rumors it would be released; nothing happened. On the above-left is the opening theme song for the movie; video/audio quality is poor and muddled. Note the end of this clip and how reminiscent it is of Maria running back to the abbey during the
Maria
number in
The Sound of Music
. Makes me wonder if they got the idea from THIS movie.
Once In Love With Amy
. I never knew where this song was from; we used to sing it in choir, and it was always the favorite of everybody in the class due to the teacher's arrangement of the song and harmonies of the chorus. I always thought it was a turn-of-the-century song.
WARNING:
Do not put these clips on YouTube; they are not permitted there or anywhere else.
13 Ghosts, 1960